Welcome to
Distinct Abilities Children's Center
Distinct Abilities Academic Preschool
Distinct Abilities Academic Program
Distinct Abilities is an academic program with locations in Houston and Alvin, that caters to both special needs and non special needs in a full inclusion environment. We incorporate a literature based program with the Montessori philosophy creating an individualized program in a group setting.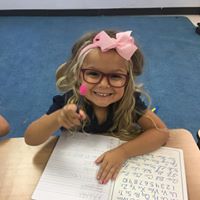 It has been an absolute delight having my children at such a wonderful school this past year. My husband is in the military, and so we move around a lot and have experienced our share of child care facilities. Distinct Abilities is the kind of school that every parent dreams of finding for their child. The teachers are gentle and patient, and truly care for my children. The curriculum is based on an exciting new book each month and is integrated into all subject area. This is not just a place to keep your children occupied while you are away - it is a place where your child will learn and develop his knowledge and social skills. The entire staff is informative and will talk about their interactions with your child and what they have found that works best. And Valerie, the director, keeps an open line of communication with parents - along with texting pictures of your child and giving updates if you so desire. There is not a single thing that I would change or want more from this school, and I am deeply saddened that my children cannot continue on in this school because we are moving on to our next post.

It was February, 2009 when I first met Valerie. I went into the school that she was directing in hopes to find a place that would accept Blake, my 22-month-old son with Down Syndrome and Jordyn, my 6-month-old "typical" daughter. The school Blake was attending still had him with the 1-year-olds because he was not walking yet. I knew it was time for me, Blake's advocate, to find a better place for him. As I walked into the school to speak with Valerie, I was terrified that I would hear "Sorry, we can't take your son. We aren't equipped to handle a child with special needs." I had heard this so many times since Blake was born that I had no doubt in my mind I would hear these words again. Much to my surprise, Valerie said, "We would love for Blake and Jordyn to attend our school!" Tears immediately began to stream down my cheeks. My first victory as Blake's advocate!

After two months of Valerie directing the staff to take Blake out into the hallway for 30 minutes a day to practice walking…he finally began to walk on his own. That was the first of many accomplishments for Blake while under Valerie's care. Blake and Jordyn learned to self-feed, drink from a cup, follow directions, and so much more over the next 2 years.

When Blake turned 4, I began to see a huge difference between he and his classmates. But I still pushed for him to be included with his peers. Then I woke up and realized that it wasn't fair for any of the other students (Jordyn included) or the staff to have Blake in the same class. He couldn't talk, didn't know the alphabet, couldn't sort colors, wasn't potty trained, and just couldn't focus on the material long enough. He would clear a shelf, run out the door, and disrupt all the other children while they were working. He needed more focused attention. He needed to learn material in his own way with a lot of assistance. I knew he would learn the material, but the typical classroom was not good for him. Blake was overwhelmed and it was time for a change.

I remember thinking, "what about Jordyn?" She was thriving at this school! She was beginning to read, could count to 100, and she even started doing some simple math. However, I didn't want the kids at two different schools. This just wasn't a feasible option for me. I remember wishing there was a school out there that had the excelled academics for Jordyn and a classroom that could also cater to Blake's needs.

Voila! Distinct Abilities was the answer to my prayers. And with Valerie running this school, I knew it would be a great place to have both of my kids. And it definitely has been. Jordyn just turned 4 and is reading, doing simple addition and subtraction, and having fun being a kid! Blake is 5 and is able to do more than 20 signs, goes on the potty a majority of the time, counts to 10, speaking in sentences, his confidence has gone through the roof, and so much more. Both of the kids are so happy at Distinct Abilities. Both of their needs are being met…and at one convenient location. Thank you for listening to our family "type's" needs!

Distinct Abilities has truly been a blessing for our family. The teachers are amazing and their skill with guiding children and facilitating growth constantly amazes me. The Director brings her skill and passion to the center in a way I have rarely seen before. I have three children at DAAP, all in different age groupings, and all are flourishing.

The mix of special needs kids and non-special needs kid normalizes the great variety of people in the world. We have been to parties for kids with Down syndrome, and we have a child who is on the autistic spectrum; DAAPmakes this all feel like a part of ordinary life.

My eldest at DAAP, a 9-year-old with autism, has matured and learned skills he desperately needed from the teachers and Director at DAAP. Partway through last summer, the camp my son attended told me that they could no longer accommodate his needs. They directed me to Valerie, who met with us that afternoon. My son started the following day. We worked together on a plan for him, and I was kept updated daily on his progress and overall behavior. He learned and improved on his coping skills, ultimately finding in DAAP a safe haven where he has confidence and the ability to function at a high level. My son now has a place he loves and where he is loved and is excited about having full days there this summer.

My younger two are growing by leaps and bounds at DAAP. My 4-year-old constantly writes, works on reading, and even takes piano lessons. My 2-year-old grows more verbal all the time. Having gone through several daycares throughout the years, I can say that Distinct Abilities constantly amazes me and is a wonderful place for my children. The unique personality of each of our kids is cherished and nourished at DAAP, and they are encouraged to be themselves while learning new things.

Roland has been at Distinct Abilities for most of this school year. Before we came to Distinct Abilities, Roland had to change preschools several times because of his behavior challenges. It was an emotional time for both of us. None of his previous schools were equipped to handle his particular needs. Distinct Abilities has been a perfect fit for us. The staff is expertly trained, and I feel completely worry-free when I drop him off in their care. He has a lot of fun, is in a safe environment, and gets a wonderful education. I am extremely grateful to have found them. I cannot stress enough how highly educated and trained their staff is, nor how impressed I am with their understanding and ability to care for Roland.

My son Connor has been attending Distinct Abilities for almost a year now. I can't begin to describe the complete change in behavior and attitude this past year. He rarely ever has a meltdown and seems genuinely happy. Connor does not respond well to drastic changes so I appreciate all the effort that the staff has put into his education and care

It was William's last year at DAAP! He enjoyed learning from Ms. Tannaz and Ms. Wendy along with his peers. These teachers taught William to read and it has really built his confidence to read books to himself and his brothers. We are amazed at his handwriting and ability to express his dry sense of humor by writing silly sentences and telling stories. William continues to be a happy, loyal, kind little boy who loves his friends and brothers.

Luke's fine motor skills are developing as evidenced by his incessant desire to color pictures for all his family members with great detail given to stay inside the lines. His artwork hangs along the walls at the grandparent's houses! Luke is still shy and cautious, but has made a lot of friends at school. There are always stories he tells us in the car on the way home about what he's learning from Ms. Lillian.

grandparent's houses! Luke is still shy and cautious, but has made a lot of friends at school. There are always stories he tells us in the car on the way home about what he's learning from Ms. Lillian.

Our youngest boy Isaac is one of a kind! He is dangerously curious, makes friends with everyone, and lacks a normal level of fear. Ms. Mariella did a superb job redirecting his focus and finding effective ways to facilitate Isaac's learning. We hear him singing all the songs he learned at school while in the car, at play, or in the bathtub! He loves to be a helper for Ms. Mariella and eagerly accepts the chance to do chores at home.

Thank you for all you do for our family and every child at DAAP!

My family has been at Distinct Abilities for almost 6 years. My daughter started when she was 14 months (almost 7 now) and my son started when he was 6 months (2 now). Over the years I have gotten to know the owner, Valerie, well. Valerie has revealed her true passion and lifelong experience in childcare. Distinct Abilities has amazing capabilities for children of all abilities. While neither of my children required a higher level of care, it was important to me that they learned at how to interact with children of all abilities at a young age. Dropping my children off, knowing they are well cared for and are in excellent hands has been priceless. Any issues we ever experienced (very few) were very minor and always addressed and corrected immediately.

The staff is caring, attentive, and skilled. Thank you for being the first people outside of family we trusted with our children. I always felt confident leaving my kiddos at Distinct Abilities and heading into work. I was able to focus my attention to my job and never had to worry about them during the day when they were there. Valerie, Ms. Brittney, and Ms. Ernestine really helped us out many times while my mom has been battling cancer off and on. You all were such a blessing to us during a very stressful time in our lives, as you were always willing to take the kids last minute.

We've had such a wonderful experience at Distinct Abilities and we will miss the facility, staff, and fellow students terribly! If it weren't for moving, we'd still be there!