In addition to comprehensive language arts, math, science and social studies, each student attends classes in Music, Spanish, Art, Computer Labs, P.E., and Sign Language.
Through hands-on based learning, students tackle a challenging academic curriculum in ways that are engaging, meaningful, adaptable to a variety of learning styles, and fun.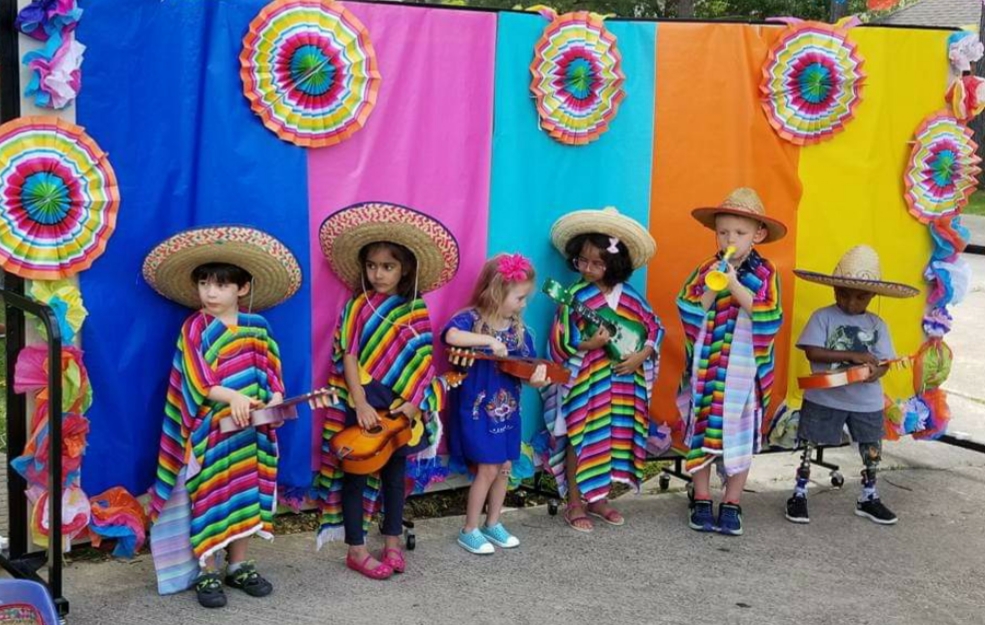 The curriculum is based on the Montessori philosophy which is very "hands on" approach emphasizing independence and self-directed activities. This is used in combination with the Frogstreet curriculum; a literature based program proven to be effective for all children including children with Down syndrome, Autism and other developmental delays.
Our unique set-up in our Kindergarten through 3rd grade classrooms allow the children to gain their education in a very conductive to learning environment. Following the Texas curriculum, a combination of individual, team, and group work creates a common bond with all levels of students creating well rounded, successful children as they progress through their educational years.
Our After School Program offers a warm environment conducive for homework, winding down and sharing with friends after a day of school. The children participate in fun activities that sharpen their social skills. Tutorials are offered for an additional fee.
DAAP uses a combination between the Montessori philosophy and the Frogstreet literary preschool curriculum. This creates a "hands on" approach emphasizing independence and self-directed activities. The Frogstreet curriculum is equally effective in a traditional preschool setting but has specific components that were created for young children with language delays or disorders, developmental delays, or forms of autism.
Young children learn by doing and interacting with the people and things in their environment. Our unique approach to educating all types of learners begins with the prepared environment and is executed by well trained teachers and curriculum specialists who ensure each child is able to achieve his/her true potential.
Literature and storybooks are used to support theme units in many preschool classrooms. Stories are changed often and many children, including children with receptive and expressive language delays, such as those with autism and Down syndrome, are not always given the opportunity and time necessary that it takes to become familiar with key words and cognitive concepts found within the stories. Familiarity and literary repetition help to support language development in all children. Those with delayed language and or cognitive development will benefit from this approach as it is productive to their style.
Our developmental programs reinforce basic social, listening, independence and motor skills to prepare students for their future classroom environment.
Frogstreet  preschool curriculum uses the story itself as the theme of the unit to promote early literacy. They furnish the teacher with objectives, activities, and assessments necessary to provide all children an educational program which will meet their basic needs in each of the five domains; physical, social, cognitive, communicative, and adaptive, commonly addressed in the preschool classroom.
Distinct Abilities offers several camps throughout the year to keep our students engaged when they are out of school. Our camps are dedicated to providing a sense of belonging in a full inclusion environment. Students enjoy learning through hands on activities, lessons, and field trips. Accommodations are made for each individual child to make them successful in our environment.
Winter Camp is held during the Holiday Season except on Christmas Eve, Christmas Day, New Year's Eve, and New Year's Day, when we are closed. Everyday has a different theme such as The Polar Express, Candyland, and a New Year's Celebration. Hands-on activities such as arts and crafts, cooking, and experiments are conducted by the students. Children who are 4-years and older can attend Out-of- House Field trips to destinations such as Main Event, Putt-Putt Fun House, Moody Gardens, and various Museums. In-House Field Trips such as Texas Snakes, Robotics, and Crafts are schedule for all ages to enjoy on campus.
Spring Break Camp is held during Spring Break Week, Monday-Friday. A themed lesson plan is created at every level where the child can learn while having fun. This is also a great time of year to tidy up our garden from the cold harsh winter season. Out-of-House Field Trips for children 4 years and older are scheduled to pick strawberries, study wildflowers, and explore nature as it awakens from hibernation.
Summer Camp is held during summer vacation usually June through mid-August, Monday-Friday, except on the Fourth of July, when we are closed. A calendar is created with a main overall theme for the summer. An example is Creative Campers: Kids who explore, make, and share with friends. Our weekly topics include The Arts, Cultural and STEAM activities as well as Language Arts, Math, Spanish and Sign Language. Students participate in In-House field trip and Out-of-House field trips (4 years-old and older) once a week as well as Cooking Craze, Gardening and Kid Fit Curriculum. Teachers also instruct students on specific social skills to better express themselves in a positive, and productive manner. This helps them become problem solvers among themselves, creating empathy for each other, and respect.